Shopify is one of the leading e-commerce platforms. It is an online store builder for small to medium-sized businesses, with all the features you need to sell your products to a global customer base.
E-commerce is a fast-growing — and lucrative market — and because of this rapid growth, it's also a crowded marketplace.
Shopify alone has 600,000 online stores. And it is only one of several major e-commerce platforms.
To stand out and connect with your customers, you must take a compelling offering to market and ensure your online store is optimized.
Fortunately, Shopify is a versatile and feature-rich platform offering e-commerce businesses a full suite of services to build and run a successful online store.
Even if you have little (or no) experience running an online store, Shopify's built-in features lets you set up — and market — a professional, well-run online store.
If you use it to run your store, here are a number of tips, hacks, and shortcuts you can use to slash admin time and boost sales in your online store.
Power User Tips, Hacks & Useful Apps
These Shopify tips & hacks cover nearly everything you need to supercharge your experience with the e-commerce platform.
Use Shopify Themes to Create a Beautiful Store
Your online storefront must be eye-catching to attract potential customers.
Shopify has over 100 themes you can use to customize your e-commerce site. Shopify templates include free and paid themes and cater to a large range of industries. Even with little to no experience, you can present a professional online store to the world.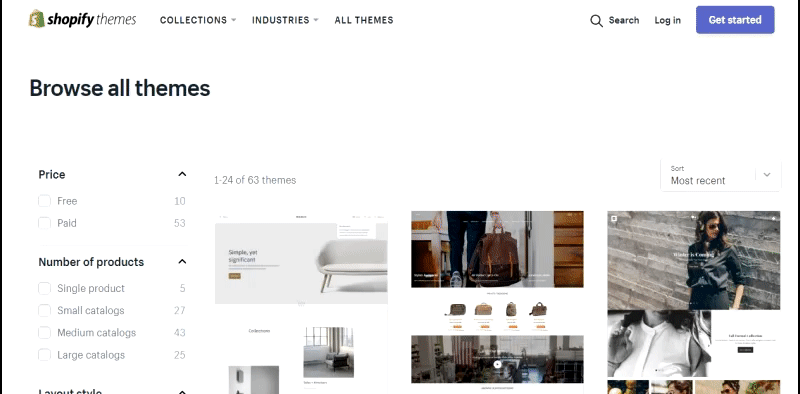 When searching for a Shopify theme, you can see how other stores are using it. This helps you decide whether it's a good fit for your e-commerce business.
Check User Reviews
You can also check the comments for insights from other entrepreneurs who have used the template. Did they find the theme easy to customize? Are they in your industry, and found the theme a good fit?
Scan the comments sections for potentially helpful insights.
Customizing at the Code Level
There are plenty of customization options built-in to the themes. But if you know your way around HTML and CSS, you can customize Shopify themes further.
Liquid is the template language powering the e-commerce platform's themes.
It's open source so you, or a web designer, can easily build themes. If you need to hire a web designer, Shopify has a list of providers you can contact.
Follow Ask Jane's YouTube channel where she shares step-by-step guidance on growing a successful Shopify store. Jane — a Shopify employee — launched her own store last year, which made over $88,000. 
Search Engine Optimization (SEO)
Now that you've built an appealing Shopify store, you need to make sure your potential customers can find it during their online search. Each day, customers are looking for products online and to rank in the search engine's results you must put basic search engine optimization (SEO) in place. This is where Shopify's built-in features really shine.
Get Competitive Advantage via Keyword Research
Shopify offers plenty of opportunities to add keywords relevant to your e-commerce business. Before you do this, you must conduct your own keyword research.
New to keyword research and not sure where to start?
Google's AdWords Keyword Planner is a thorough and free keyword research tool you can try.
Once you've refined the keywords you want your e-commerce site to rank for, go ahead and add your keywords to your Shopify store.
We will discuss some of the key points below.
You can add keywords to four elements to improve SEO for your e-commerce store:
Page titles
Meta descriptions
ALT tags
A page's body content
As an example, we'll go through the steps for optimizing your meta description for search engines. A meta description is the text under a page title in a search result.
Optimize Metadata
Get your products found in the search engines by optimizing your meta titles and meta descriptions in Shopify to include your main keyword for each page.
First, choose a theme that allows you to edit your metadata. Once you have a theme in place, you can edit any page. For the homepage:
Go to "Online Store"
Click "Preferences"
Edit the metadata
For all other pages:
Go to "Online Store"
Go to "Pages"
Choose the page you want to edit
Edit the metadata
For individual products:
Select a product you want to edit
Look for "Edit website SEO" and click on this
Edit the metadata
Frequently Asked Questions About Shopify
Here are a few commonly asked questions about succeeding with Shopify.
Be sure to reach out to us if you have questions that aren't answered in this review. We'd be happy to research them for you.